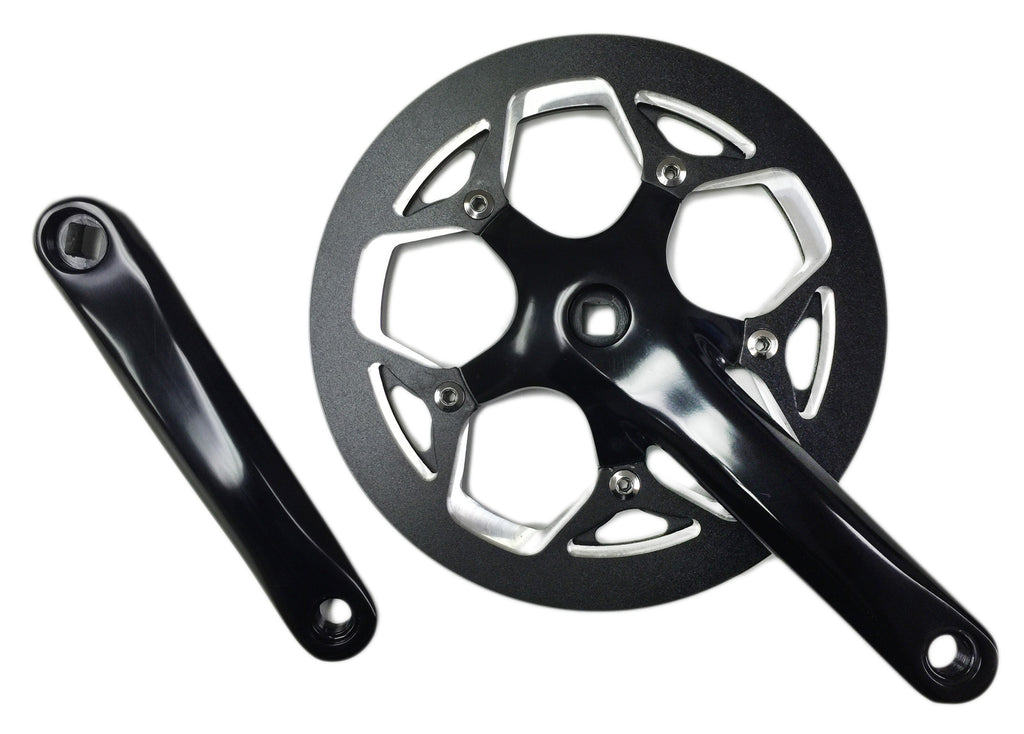 Lasco 53T crank set, 170 forged arms CNC aluminum chain guard for ebikes and folding bicycles
This 3 piece crank set comes with 

53T front 3/32" 

chain ring and  strong forged aluminum 170mm arms with outer CNC chain guard. The non-flex aluminum chain ring is 53 teeths. Made by Lasco the leader in bicycle chain rings and crank sets.



This set includes everything you need to upgrade or replace on your existing ebike or folding bike or compatible bicycle. Crank arms are 170mm in length compatible with 9/16 pedal. Includes the crank arm bolts. Arms come finished in polished black and the chain guard is black. 
A must upgrade to Rad Power, Juiced or Sondors ebikes so you can ride faster and maintain a more consistent and higher top speed! Also a great upgrade for your Birdy, Dahon, Tern, Bike Friday and MOBIC folding bikes. 
53T (teeths) chain ring

Compatible with 130 BCD chain rings.

Forged aluminum 170mm length crank arms are the strongest on the market

Fits square taper bottom brackets

Crank arms fit 9/16 standard bicycle pedals

Fits standard 3/32" chains found on most multi-speed shifter bikes

Also fits single speed bikes with 3/32" chains